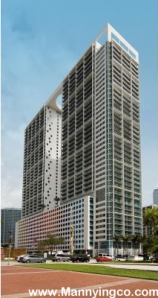 The two towers of 500 Brickell, are one of the most asked about buildings for rent in Brickell. One reason for this is the large open 0 in between the two buildings and its distinct architecture. The open 0 is easy to spot from all angles.
500 Brickell, built in 2008, by the Related Group offers luxury amenities as well as state of the art technology smart building features. The lobby of 500 Brickell is very impressive, with tv's overlooking the concierge and zen waterfalls greeting it's guests. 500 Brickell also features two separate pool areas, one of which is on the top floor. The top floor pool features beautiful views of Brickell and all of Miami.
When you rent in 500 Brickell you receive all of the amenities as the owners. In additional each rental unit has imported Italian cabinets, high impact glass windows, stainless steal appliances, 24 hour security and covered parking garages.
If you would like to receive more information about rentals in 500 Brickell, please call Manny Ingco, ManCarMic Properties at 954.829.1447 or email at Manny@MannyIngco.com.