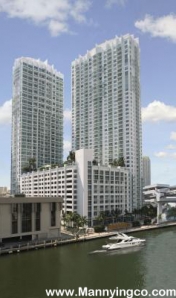 Brickell on the River, located right on the edge of the Miami River, is composed of two towers. A 42 story North Tower, which was completed in 2006 and a 46 story South Tower which was completed in 2007. In between the two is a central plaza, containing a restaurant, riverfront promenade, and complex amenities.
The north tower at Brickell on the River consists of bedrooms and open kitchens. The south tower at Brickell on the River offers a luxurious two story open space loft living with large balconies. Both offer city and Miami River views, perfect for relaxing on an oversized balcony.
Brickell on the River's amenities include a state of the art luxury gym, pool, spa, valet parking, a luxurious lobby, and cafe. When you rent a unit inside Brickell on the river you can enjoy views of both downtown Miami and the Miami River. The rental units come with modern updated kitchens, bathrooms, and washers and dryers.
If your looking for more information on rentals in Brickell on the River. Please call 954.829.1447 or email info@MannyIngco.com.