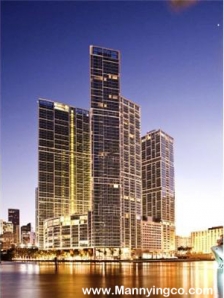 ManCarMic Properties is now givinga $500 rebate when you buy a property in The Icon on Brickell.

When you buy at the Icon on Brickell you are buying into one of the most unique and modern buildings in all of Miami and Brickell. The Icon located in Brickell is the flagship building of the Related Group and Jorge Perez. This building is the Related Groups pride and joy and spares not expense in providing an experience unlike any other condo development in Miami or the world.
When you first look at the 3 towers rising above Miami, you will feel the sense of architectural significance the building has on the landscape of Miami. From the totem pole faces to the stunning building design, the Icon is unlike any other building in the world. Designed by the renowned architectural form, Arquitechtonica, this modern masterpiece has a total of 1,800 units from 1 – 3 Bedrooms. The buildings design is one of a kind, which has spurred a buying frenzy from both international and domestic buyers.
The interior of The Icon on Brickell is just as fabulous and designed by world renowned by Philippe Starck. From the tinted windows, modern Victorian furniture, to the hallways Philleppe Starck has left his mark on everything imaginable. Each section of the interior of The Icon holds unique and beautiful art and design, created to blow your mind.
No matter if you buy from a bank foreclosure, developer, or private owner in the Icon you can take full advantage all the amenities the Icon has to offer. The building come complete with a luxury concierge services, valet services, conference room, exercise room, TV lounge, Movie theater, 3 table Billiard room, 2+ acres of pool deck over looking, Juice Bar, Outdoor Grill, Outdoor Dining and Fireplace overlooking the park, 400 foot infinity pool, and spa. The amenities at the considered one of the bets in all of Miami and Brickell.
If you want to be seen and enjoy the social scene of Miami, the Icon houses its own nightclub, Club 50. During the weekend, the Icon pool overlooking the ocean is one of Miami's best hotspots with a guest DJ's and luxury services.
If you would liked to know more information about units for Sale, Foreclosures, Bank Owned units, or Developer units in the Icon on Brickell, please call 954.829.1447 or email Manny@Mannyingco.com.