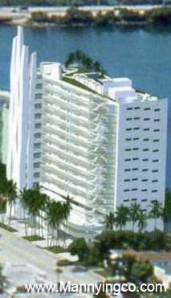 Surrounded by water on all sides, the Space01 in the North Bay Village is a unique boutique mid-rise condo in the middle of the Biscayne Bay. If peace, tranquility and privacy are what you are looking for, then Space01 is the place for you to be in.
This 15-storey mid-rise that overlooks Biscayne Bay was designed by the renowned architect Chad Oppenheim. The intimate community setting, low density living and the exotic water views offer you the perfect recreation. The Space 01 is a perfect example of modern architecture in the midst of natural beauty.

Located just minutes away from the South Beach, Downtown Miami, Bal Harbor, Miami Ports, and the international Airport, it is one of the most convenient locations here at Miami. Space 01 ensures that you don't miss out on any activity, and get the bet of everything here in Miami. Apart from the 360 degree waterfront, it offers its residents a host of other advantages and facilities to choose from.
The primary aim of the architecture in Space 01 is to blur the lines between inside and outside allowing the light, sky, water, and vegetation to come inside the loft. The interiors are fitted with the best and the most modern of appliances, to provide the guests with every comfort of a top class urban living.
If your looking for more informatin on Space 01, please call 954.829.1447 or email info@mannyingco.com