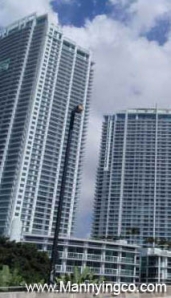 The Ivy at 90 SW 3th St, Miami, Fl. 33131 hosts one of, Miami's beautiful and unique condo accommodations. Built in 2008, this luxury tower has 45 floors and rooms with 1-3 bedroom configurations, ranging from, 822-4,591 Sq.Ft. At affordable rates, there is a residence for every budget and lifestyle. The Ivy offers residents the best of luxury and comfort to create an unforgettable experience for them.
The Ivy not only offers the residents a wonderful view of the city of Miami but also provides them with a set of amenities like, on-site spa, fitness center, pool, billiard room and business center.
The building also flaunts Smart technology with wireless high-speed internet and touch screen panels for luxury & convenience at your fingertips. This 13.5 acres lush green landscaped oasis is indeed the best place in Miami to relax and rejuvenate one's self.
Located on the Miami River just steps or minutes from Brickell Village, Performing Arts Center, and Miami's central business district, it remains at the center of most ongoing activities, that the guests might wish to participate in.
If your looking for more information on The Ivy, please call 954.829.1447 or email info@mannyingco.com