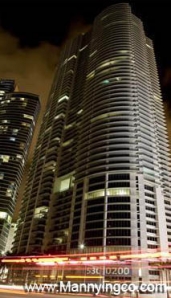 900 Biscayne Bay is one of the newest luxury buildings in Downtown Miami. Designed by Revuelta, Vega, Leon and developed by Terra Group, 900 Biscayne Bay consists of 63 floors. These units offer spectacular unobstructed views of the bay and city. 900 Biscayne Bay is filled with a host of activities and luxury options for the guests to enjoy. The interiors of the building are designed by world renowned Sam Robin.
There are a total of 516 residences at 900 Biscayne in 1, 2, 3, and 4 bedroom layouts in 11 floorplans. Units in 900 Biscayne is complete with updated fixtures such as a subzero refrigerator and Miele appliances. The rooms here all have 10 foot ceilings, with european style kitchens and bathrooms. The units all also have beautiful marble flooring.
900 Biscayne Bay also has for its residents an upscale 5 star Restaurant, a gourmet store, two pools, lush gardens, saunas, and fitness centers to enjoy. Located right across from American Airlines Arena, 900 Biscayne is perfect for the Miami Heat fans wishing to walk to the games.
If your looking for more information 900 Biscayne, please call 954.829.1447 or email info@mannyingco.com.