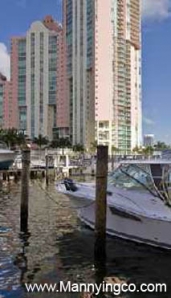 Constructed by the Related Group of Florida in 2006, the Aventura Marina has a total of 32 floors and 386 residences available in nine different floor plans ranging in size from 1,829 to 2,633 square feet.
The luxury residences are in 1, 2 & 3 bedroom floor plan configurations. All the units also have custom designed european style cabinetry with granite countertops, large open air terraces with glass paneled railings, large walk in closets, and top of the line appliances.
The other community features here at the Aventura Marina include fitness centers, spa, sun deck, resort-style pool, media room, card room, and a business center. However, what makes the Aventura Marina even more attractive is its unique marina. Situated on the western side of the Intracoastal Waterway, with direct access to the Atlantic Ocean and the water sports of both Dumbfoundling Bay and Little Maule Lake, Aventura Marina is undoubtedly the best place to enjoy the Miami beachfront.
If your looking for more information on Aventura Marina, please call 954.829.1447 or email info@mannyingco.com.