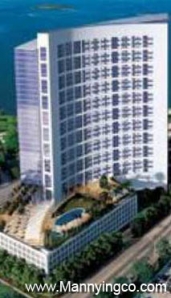 If you are looking for a luxurious condo in Midtown, then The Blue is the place to be in. Built by the Arquitectonica in 2005, The Blue is located at 601 NE 36th St, Miami, FL 33137. This 36 story, ultimate luxury tower that offers its residents  bay and city views. There are around 330 stylish 1-2 bedroom units, priced between $145,000 - $1,200,000.
The entry to The Blue exhibits a unique and dramatic curvilinear lobby space that is wonderfully decorated in a minimalist style and furnished with one-of-a-kind custom finishes. In addition, the lobby is  fully staffed 24 hours and ready to cater to all your needs. The other facilities here include, a 24-hr Security, Covered Parking, Concierge, pool, spa, gym, social Room, Spa Blue, pet friendly environment and a lot more.
The interiors are equally fantastic and breathtaking. Each apartment here at The Blue has high class marble flooring, fitted with Kohler accessories, decorated with Italian cabinets, and fitted with High-efficiency HVAC system.
If your looking for more information about Blue, please call 954.829.1447 or email info@mannyingco.com. We will be more then happy to show you any of the units listed below.