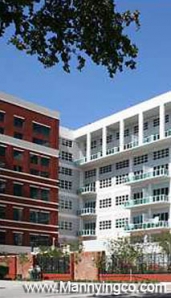 The Parc Lofts, located at 1749 NE Miami Ct, Miami FL33132, is a 6 floor industrial loft building in the midtown Miami region. It is a truly unique addition to the Miami waterfront, offering the residents an unparallel access to all the modern urban lifestyle options. The accommodations here at the Parc Lofts, range in different budgets, that fit their pocket. This 120 foot tall building was developed in 2005, by the Urban One Development, LLC / The Intrepid Real Estate Company, grabbing the attention of the local residents as well as of those from northern cities.

The Parc Lofts consist of about 72 units, ranging from 750 – 4309 sq. ft., completely furnished and offered with all possible amenities. The amenities here include 24-hour security/concierge, swimming pool & sundeck, hot tub, gym, picnic area and a lot more. The interiors have some outstanding features, like soaring ceiling heights, steel and concrete beams and columns, spacious walk in closets, terraces with aluminum railings, modern stainless front paneled kitchen, and top end technology.

The Parc Lofts, is also located in one of the most convenient locales, just minutes away from the local hotspots in Midtown. There is a new Publix planned in Midtown by the end of 2011, which would be within walking distace to Parc lofts. For the people who love to get connected, yet adore their privacy, Parc Lofts was created just for you.
If your looking for more information on Parc Lofts, please call 954.829.1447 or email info@mannyingco.com