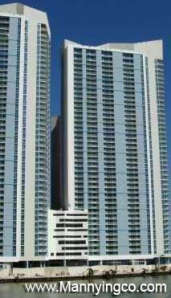 Magnificent landmark waterfront location meets architectural genius here at the One Miami, in Downtown Miami. One Miami consisting of interconnected twin towers, welcomes the guests to the spectacular and dramatic views of Biscayne Bay, Port of Miami, Brickell Avenue, Downtown Miami, South Beach and Key Biscayne, and other local hotspots, providing them with a host of other luxury amenities.

One Miami has a total of 894 residences, with Studios, and apartments with 1, 2 & 3 unit configurations, ranging in size from 507 - 3208 sq. ft. All these residences are properly designed with private balconies offering exceptional vistas, designer cabinetry, and a wide array of modern appliances. In addition to all that, the condos offer the residents, personal touch services such as concierge, housecleaning, valet as well as on-site dry cleaning pickup and delivery service. Reisdents and guests of One Miami can also use the Full service business center with high speed data and voice capability, to make their work easier.

One Miami residents and guests can use the fitness centre here, or hit the pools with incredible vies. Direct access from the Miami River walk Promenade to Bayside Marketplace, also allows residenst and guests to be a part of all the activities going around.
If your looking for more information on One Miami in Dowtown Miami, please call 954.829.1447 or email info@mannyingco.com